Moving minds, teaching young students and presenting – after 6 days of intensive work – concrete results: That's the best thing that happened to me in my professional life.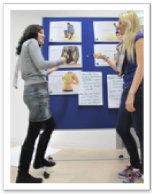 The place of this experience: The Hochschule Liechtenstein. The setting of the project: A compact workshop of 6 days. My staff members: 18 students of economy and architecture. And the aim of the project: To build a strong brand out of an organization for the disabled – the "Heilpädagogische Zentrum Liechtenstein". A strong brand, that differentiate itself in the weak-profile market of sheltered workshops – concerning the products, the promotions and they way, marketing is done up to now.
But beside this case study, I had an other goal for our little Pop-Up-Agency: I wanted to teach my young horses, that the most important think in marketing is "Strategic Creativity". Because analyzing competitors and target groups, market shares and positioning is only half of the task. But the real challenge is, to come up with a relevant and unique Value Proposition. And therefore creativity is needed. Cause "Gray is all theory and green the golden tree of life".
My personal key learnings:
-       I'm somehow able to turn theory in golden trees.
-       It's fascinating to guide people on an intellectual journey.
-       And I have to improve my English…